Boost your business using Internet Marketing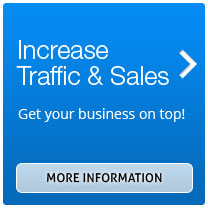 More and more people are using the internet to find products and services, increasing the demand for businesses to apply internet marketing techniques to reach their audience.
Our wide range of internet marketing methods includes:
Freetimers can help any business to promote products and services online to increase visitor rates, conversion rates, sales, improve return on investment (ROI) and brand awareness.
Our search engine optimisation (SEO) method helps improve your websites' position in search engines results, such as Google, increasing the number of visitors, while pay per click (PPC) advertising allows a business to create quickly targeted adverts across popular search engines and social media websites to reach new customers and drive traffic to their website. Our marketing services along with our continuous improvement services have helped clients significantly improve their internet performance. To gain an idea of how Freetimers can help your business, take a look at our current client marketing case studies or click here to see our latest top search engine results.
Testimonials
We chose Freetimers, and the result has been fantastic, with huge increases in traffic and business. 3 years on, and the results just keep getting better! To top it off, we're now No1 on Google for our main search phrase 'garage doors' "
After Freetimers started their SEO work to our website 3 months ago, our Google rankings, visitors and the number of enquiries we received increased dramatically.
Social Media and Email Services - Two powerful tools in the Marketing Mix
Freetimer's social media and email marketing services can then help businesses engage with customers and maintain strong relationships; we can then increase user engagement with our professional article and content writing service. Social media, blogging and email marketing can also be used to help businesses reach new customers, whilst learning more about those customers in the process.
Building Strong Relationships
For over 15 years, Freetimers have helped businesses acheive online without exceeding their budgets. Our prices start at £150 per month, so whether you're an established multinational company from London or a small start up business, we can help maximise your return.
To discuss your internet marketing possibilities with an experienced internet marketing team call Freetimers today on 0800 4584260.